Has the Whole World Gone CRAZY??


Let us be the first (and it would seem like the only) ones to say that we thoroughly enjoyed Pat Summitt's appearance at the Florida-Tennessee game last night. Even though
Deadspin
,
Awful Announcing
, and
The Big Lead
, three blogs that we read religiously by the way, have all called it a letdown, we thought it was great for several reasons:


It showed school spirit

Not many schools have coaches that are as close-knit as the University of Tennessee. Bruce Pearl knows that it is in his best interests to align himself and his team with the much more famous, and much more successful, Lady Vols squad. That's why he dressed up like an idiot and cheered at the women's game last month. And this was her returning the favor. Hell, even Fat Phil was in attendance last night, picking his nose and sitting with Peyton Manning. How many schools have coaches that are that close and that supportive of their colleagues? The Buckeyes could learn a lot from the Vols. It wouldn't hurt to see Coach Tressell-Vest at some basketball games cheering on Thad and his guys.

It showed a different side of Summitt

We don't claim to know much about Women's Basketball, but we know that Pat Summitt has an image of a bit of a curmudgeon. She is sort of like John Thompson in a dress. This display last night showed a completely different Pat Summitt. She showed that she doesn't take herself too seriously to show up in a damn cheerleading outfit in her mid 50s.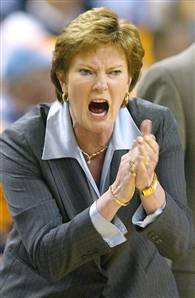 What exactly did you expect?

Did you guys think that she was going to come out topless with her chest painted like Pearl was at the women's game? I think coming out in a cheerleading outfit singing "Rocky Top" is about as much as I thought she was going to do.

And most importantly, it led, however indirectly, to a Florida loss, and probably the loss of their #1 seed.